Projects
The San Angelo Metropolitan Planning Organization has and continues to be involved with a variety of transportation projects. These projects include highways, roads, sidewalks, bridge, bike lanes, and railroad. Because the MPO provides transportation planning services, we work with both public and private groups, companies, and organizations to make sure transportation projects have minimal impacts on the surrounding areas and they are done in the safest manner possible to not cause harm or danger to the public.
Our past projects included Safe Routes to School 2009, Lone Wolf Historic Bridge, Red Arroyo Shared Pathway (R-SUP), and Veterans Memorial Bridge.
In an effort to ensure everyone has a voice in the transportation planning process, the MPO encourages citizens to express their ideas on projects, issues, and needs within our area. Please use the public comment form on our Join the Discussion page to leave a comment about any of our projects.
Current Projects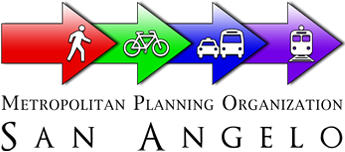 Road Improvement Projects
Click on a project to see details.
---
Project Documents
19th Street Sidewalk Project
Chadbourne Street Pedestrian Improvement Project
Red Arroyo Shared Pathway (R-SUP)